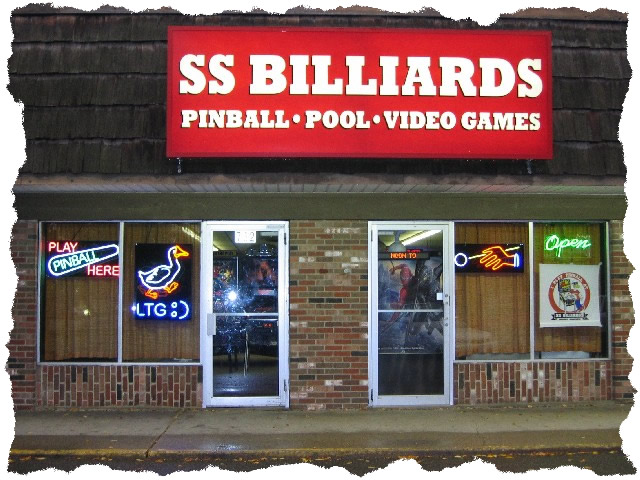 SS Billiards is the Twin Cities longest continuously operating Arcade!
Don't let construction on 169 stop you from coming. From South going North on 169 come in the back way. Last exit is Bren road. Turn left and go two stop lights to Smetana and turn right. This road goes North and turns West and is then Bren road. Go to first stop sign and turn right and this is 11th Ave, go about 3/4 mile and I'm on the left. From North going South on 169, it is open to 5th Street, Before that and right after Highway 7 go one more exit to Excelsior Blvd/County rd 3. Go right ( West ) a mile or so to 11th Ave. Wendys is on the Left and Holiday across from that. Turn left here and about a mile and 1/4 South right after 7th Street I'm on the right. LTG : )
Jersey Jack Pinball Tech Support : Pat Lawlor's Dialed in Pinball Machine is here now.
Bay Area Amusements - Planetary Pinball/Chicago Gaming Pinball Tech Support : Attack From Mars Remake LE is here now.

SS Billiards has been serving the Twin Cities for over 45 years, providing a safe, friendly place for friends and families to relax and have fun. Whether you prefer playing at one of our five regulation sized pool tables, enjoying the large collection of pinball machines, usually around 20. And some video games.

We are not a bar, and it shows in the atmosphere of SS Billiards - both in our well-maintained facilities and our friendly staff. We have been family owned and operated since we opened our doors in 1972, and thank you all for your support over the years.

SS Billiards is located just south of downtown Hopkins Minnesota in the Westbrooke Square mall -- 732 11th Avenue South, Hopkins MN 55343.
Our hours are noon to midnight Monday through Saturday and 2:00 pm to 10:00 pm on Sunday.

We are open normal hours Memorial day and Labor day weekends, the day after Thanksgiving, and New Years day, and are closed on the 4th of July, Thanksgiving day, Christmas Eve day, Christmas day and News Years Eve day.