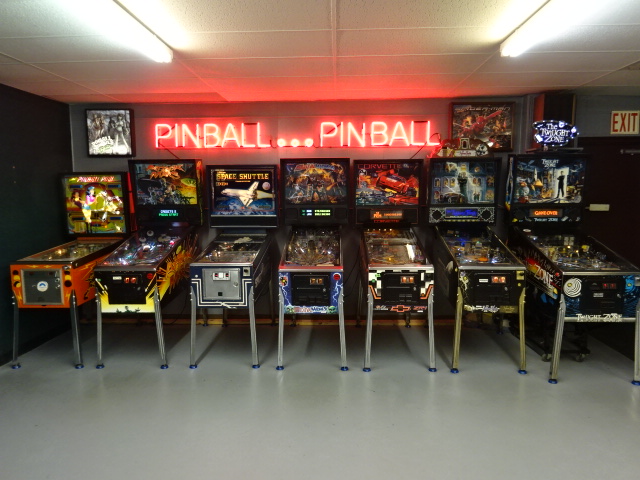 Current line up : The Hobbit, The Walking Dead, Wizard Of Oz, Pirates of the Caribbean, Bill Paxton, Breakshot, Pinball Pool, Attack From Mars, Wheel Of Fortune, Medieval Madness, The Addams Family Gold, Corvette, Space Shuttle, Taxi, Big Bang Bar, Twilight Zone, Medieval Madness Remake, Attack From Mars Remake, Dialed In.
Machines That have been here through the years. Not the current line up. The games in the pictures are here now.
Batman DK
Wheel Of Fortune
Spiderman
Addams Family Gold
Attack From Mars
Pirates of the Caribbean
Indiana Jones
Indianapolis 500
Lord of the Rings
Medieval Madness
Monster Bash
NASCAR
No Fear
No Good Gophers
Pinball Magic
Pirates of the Carribbean
Revenge from Mars
Safecracker
Scared Stiff
Sharkey's Shootout
South Park
Star Wars: Episode I
Theatre of Magic
Tales From the Crypt
Tommy
Twilight Zone
White Water

Special Event Pins:

... with more on the way!